HEALTH SAFETY PROTOCOL FOR GUESTS
According to the Protocol of Sanitary Security, emitted by the Federal Government and in fulfillment to the Technical Guidelines of Sanitary Security established in this one, La Posada Hotel & Suites publishes the sanitary measures established inside our facilities, for security and protection so much of guests as collaborators.
Baggage sanitation
---
Upon the arrival of each guest, a sanitization process is carried out on their luggage, using a sanitizing chemical.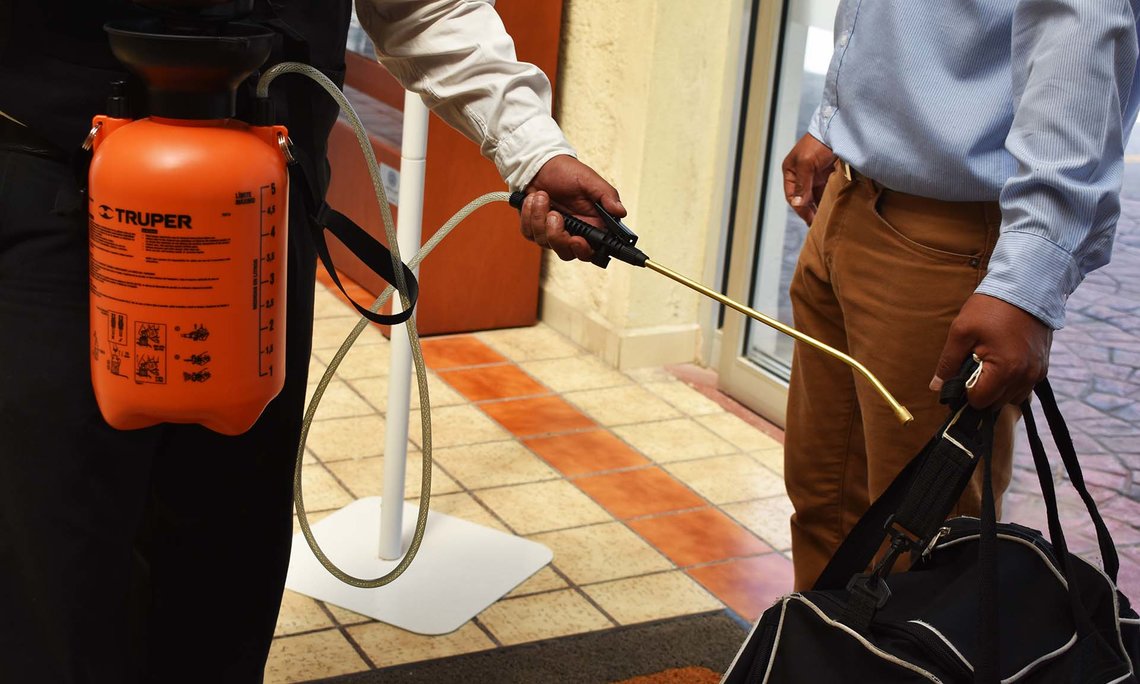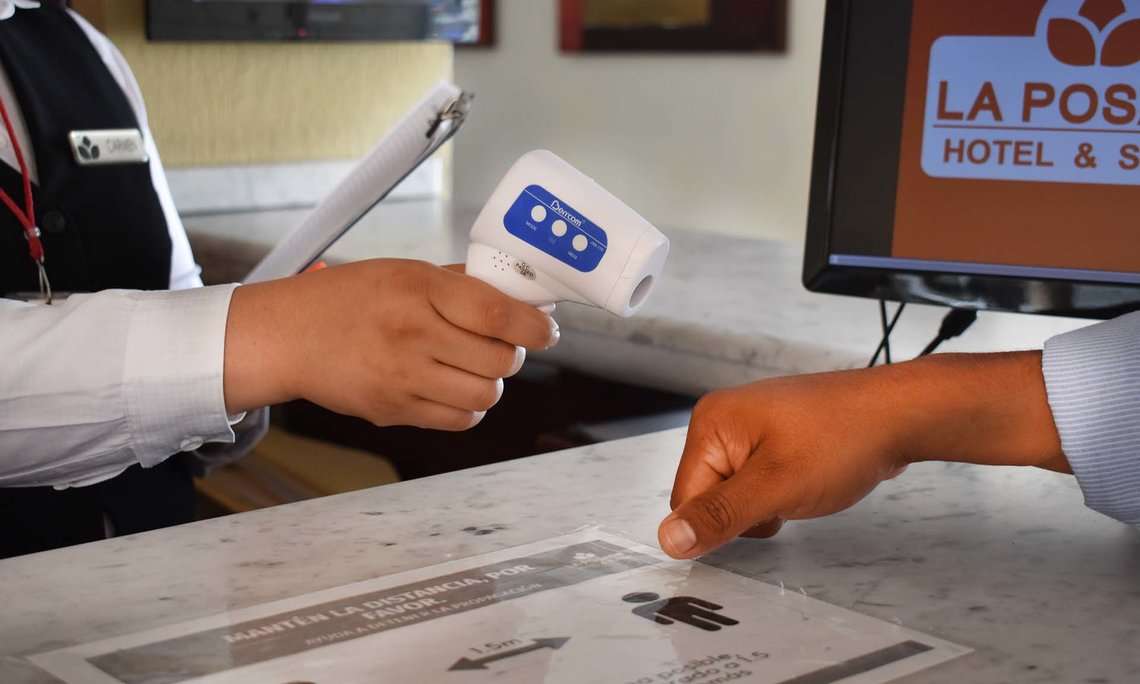 Temperature
---
Body temperature measurement is performed using an infrared thermometer.
Antibacterial gel and face mask
---
Application of antibacterial liquid for hand disinfection, each guest will be asked to wear a face mask.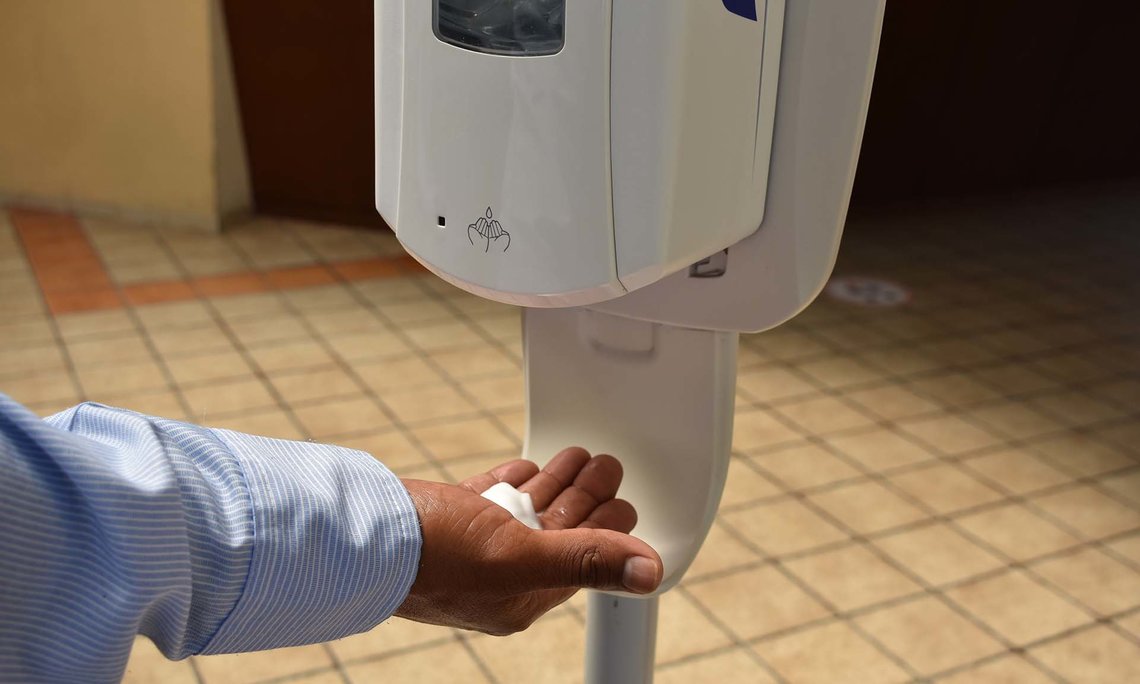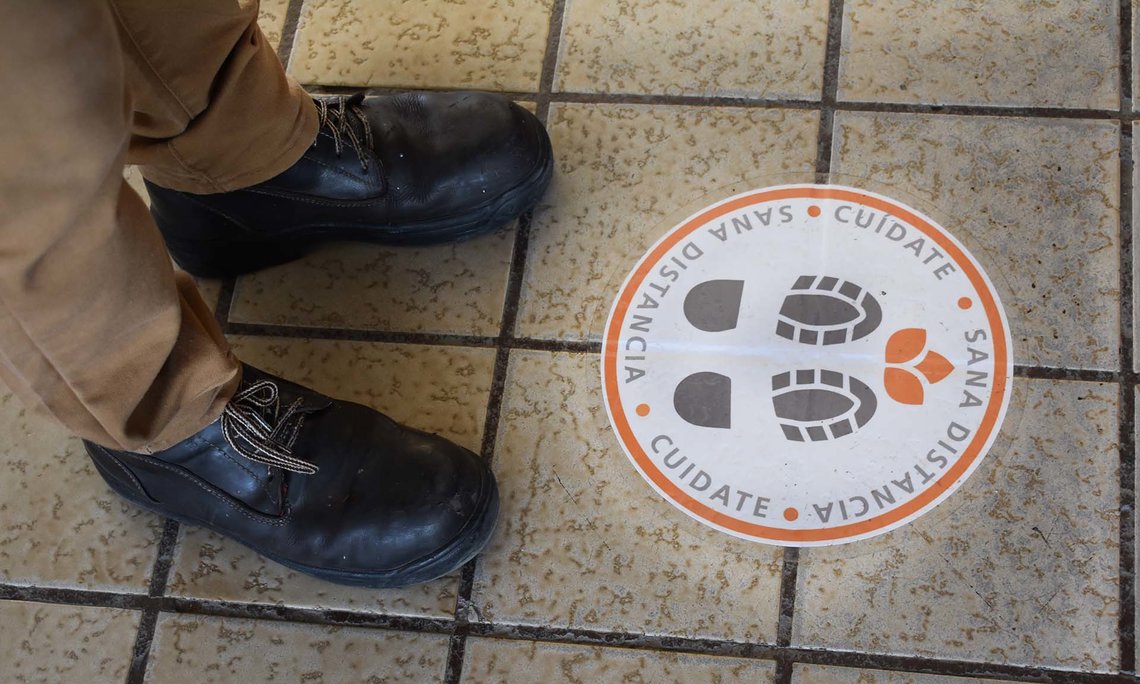 Healthy Distance
---
We have healthy distance signaling, with a minimum of 1.5 meters.
Disinfectant Mat
---
In the access, containers with disinfectant solution for shoes. Automatic dispenser with sensor, for sanitizing material.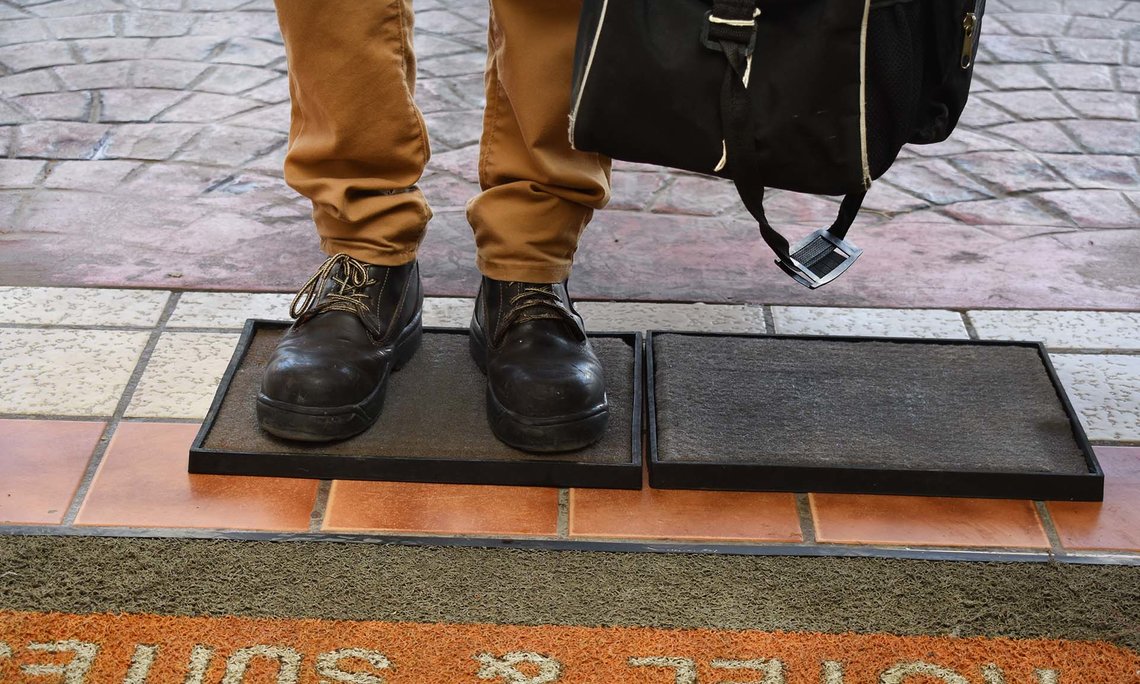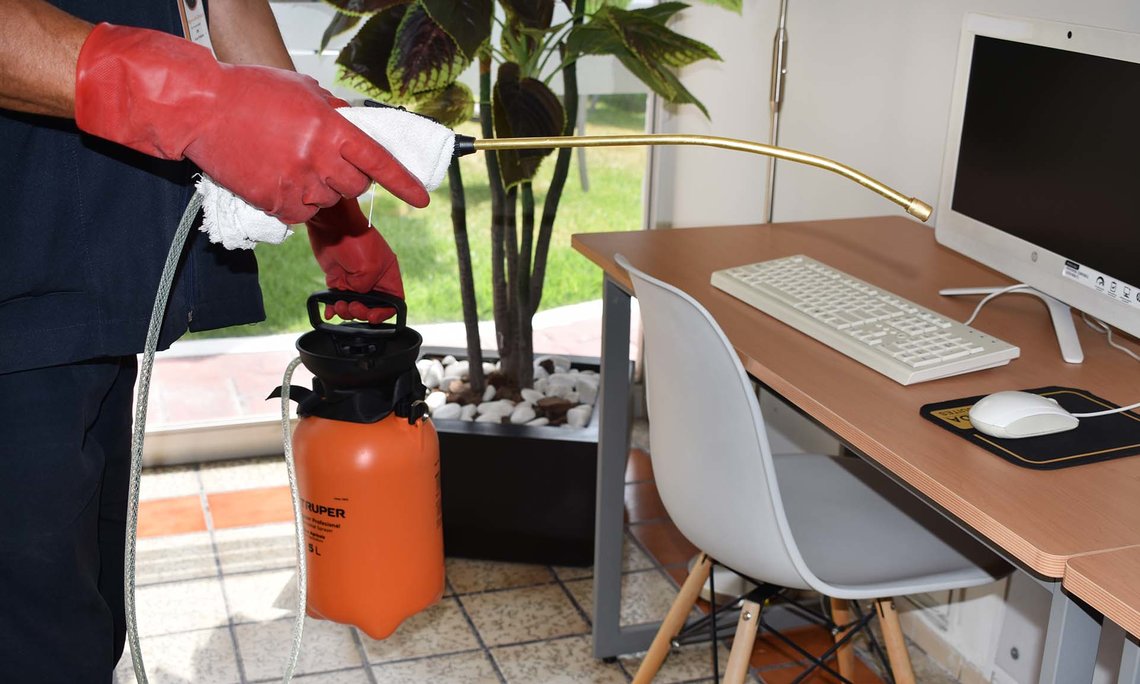 Constant deep cleaning
---
Cleaning and disinfection of the area (floor, walls, ceiling, windows, switches, desk, doors, etc.) and of devices and equipment that come into contact with staff and guests. Constant sanitation of doors, handles, armchairs, chairs, counters, stairs, railings.
Antiviral Products Kit
---
Pocket sanitizing gel is provided in addition to a sealed mouthpiece.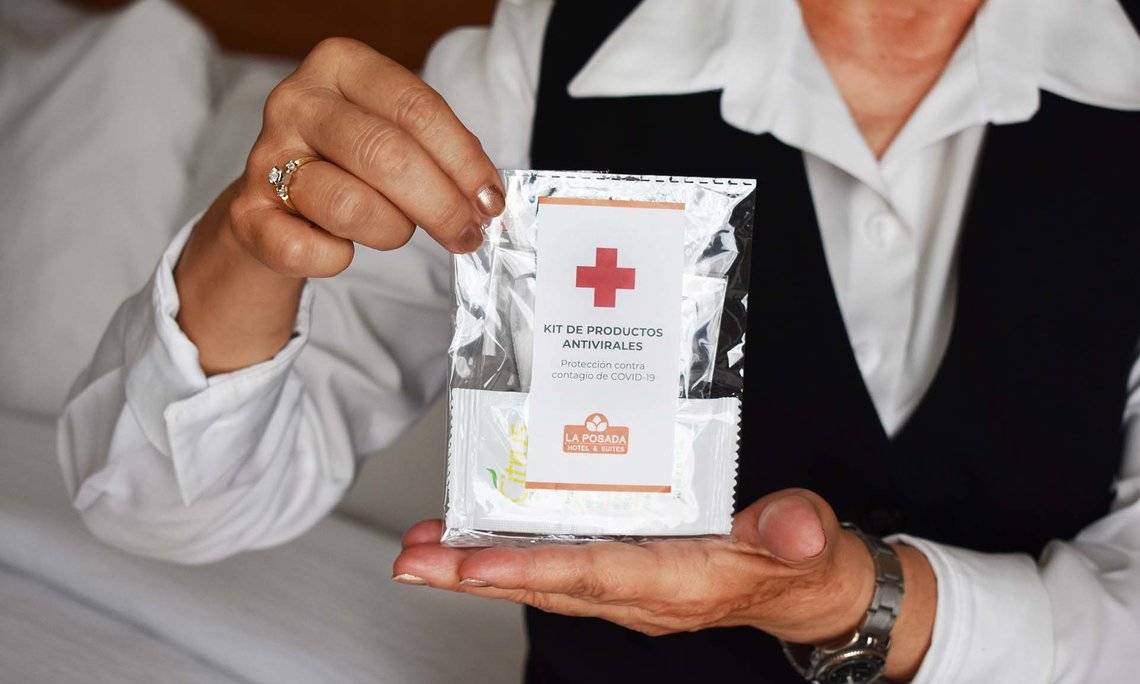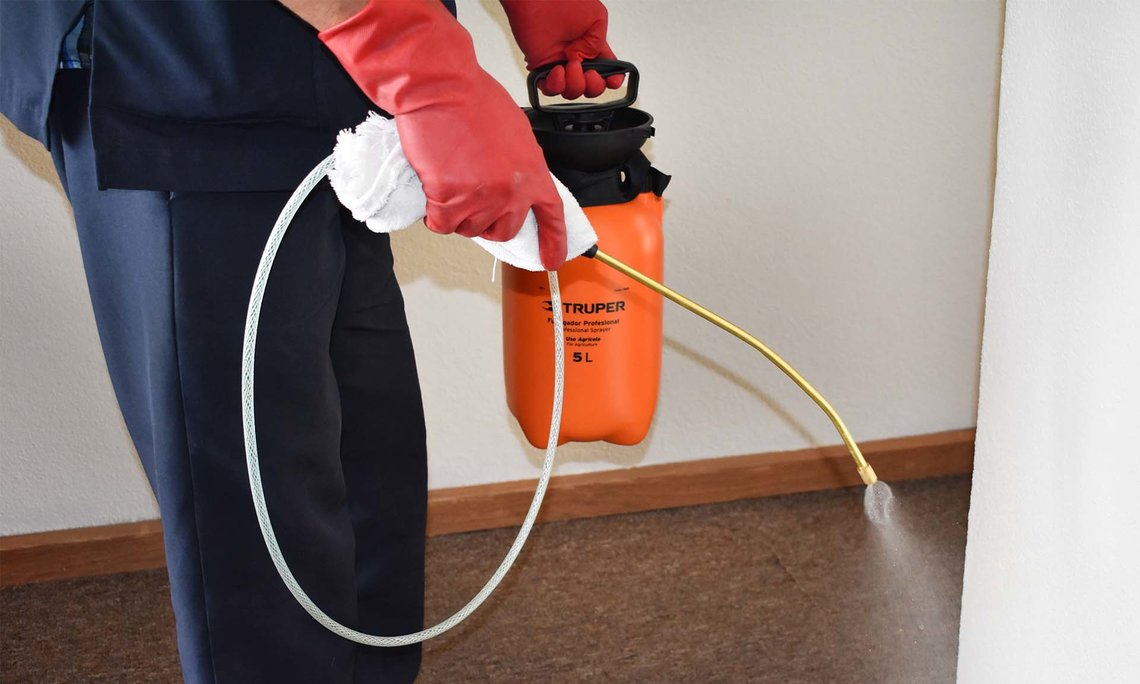 Even higher cleaning standards
---
Cleaning and sanitizing by antibacterial chemical in all areas of the room and accessories such as handles, furniture, TV controls, climate and telephone. The walls, windows and doors are rigorously cleaned. Whites and terrycloths after each use are removed and changed.
Protective equipment for collaborators
---
The staff of the housekeeper department (maids and waiters in public areas) have protective equipment, such as gloves, mouth guards and safety glasses.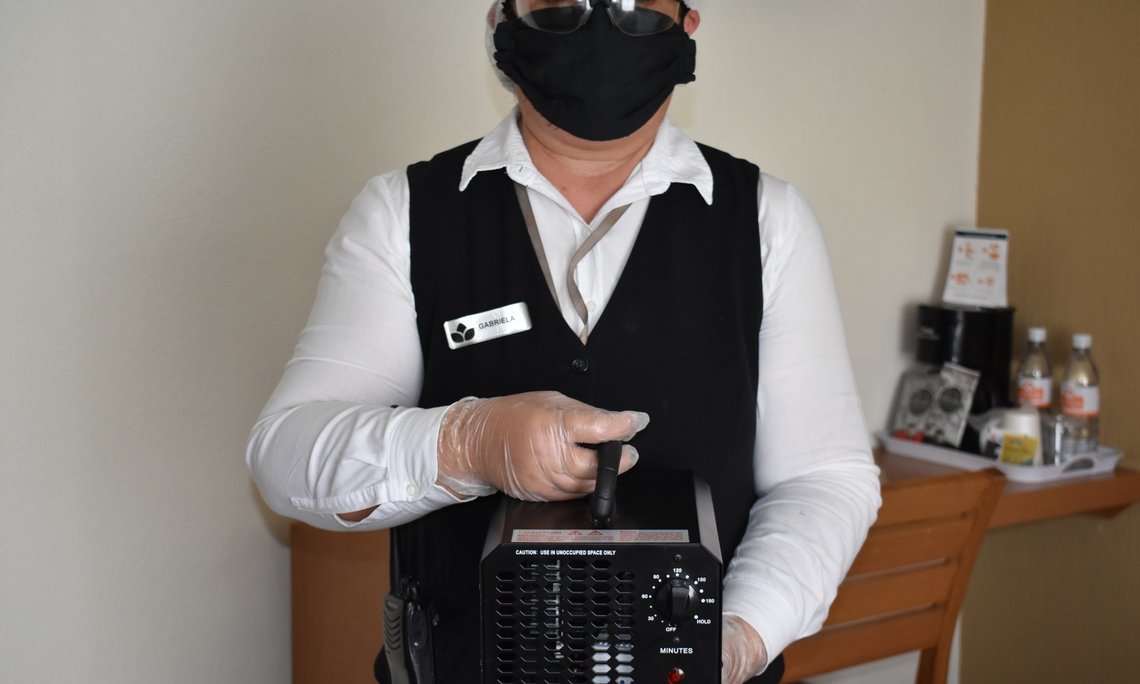 Waste
---
The cleaning of toilets and garbage cans will be carried out under strict safety and hygiene controls, as well as the disposal of waste.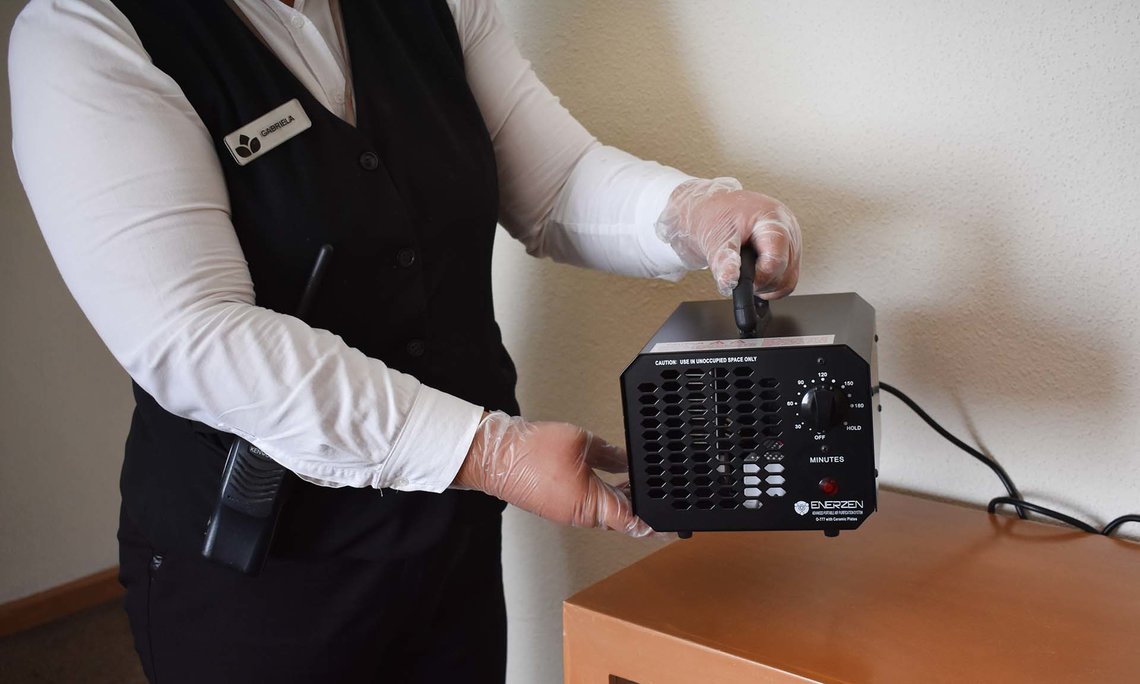 Sanitization after each guest
---
The room is sanitized with an aerosol and an ozonation machine before being assigned again.
Continuous Sanitization
---
There is a continuous sanitization program during the course of the day.
Restaurant
---
Disinfection of furniture: Constant and rigorous cleaning and disinfection of the area, self-service machines, tables, chairs and other furniture.
Healthy distance: Our guests will be asked to respect the distribution of places at the tables, observing the healthy distance.
Disinfectant mat: Placement of containers with disinfectant solution for shoe soles at the entrances and exits.
Antibacterial gel: It is counted are automatic dispenser of sanitizing material.
Even higher cleaning standards: Disinfection of all trays used for room service and service inside the restaurant, avoiding the use of vases, candleholders and decorative items.
Use of disposable table cloths and napkins: Table assembly includes disposable table cloths and napkins for greater hygiene, as well as cleaning of tables and chairs with disinfectant towels.
Room service: In order to observe the measures of prevention and healthy distance, there is food service to the room, either by decision of the guest or respecting the capacity established in the restaurant, sending the food in crockery, glassware and plates washed and disinfected with specialized non-toxic chemicals, covered with self-adhesive film, as well as the provision of containers of sanitizing gel for use by staff (waiters and captains) and for the guest.
Swimming pool
---
Sanitizing Chlorine Concentration: The concentration of disinfectant in the pool water is kept in a range a little higher than the one defined before the contingency.
Furniture disinfection: Constant cleaning and disinfection of tables, chairs and lounge chairs.
Antibacterial gel: Sanitizing material dispenser.
Constant cleaning of accesses: Cleaning of accesses and corridors every 2 hours.
PH control: Daily measurement of PH and disinfectant solutions in the pool water.
Lounges, events and conference rooms
---
Even higher standards of cleanliness: Cleaning and disinfection of the area and equipment that comes into contact with our customers, handles, doors, railings, switches, computers, desks, tables, desk items, screens and flip charts.
Disinfectant mats: Sanitizing mats for shoes.
Healthy distance: Maximum capacity control in rooms to maintain healthy distance measurements.
Sanitation after each event: Seats and public areas are disinfected at the end of each meeting or event.
Public Area Bathrooms
---
Disinfection and Sanitization Program: There is a program of disinfection and sanitization on floors, walls and surfaces that come into contact with customers.
Foam Soap Dispensers: Bathrooms equipped with sensorized foam soap dispensers, as well as sanitizing gel dispensers.
Gym
---
Cleaning and Disinfection: Cleaning and disinfection processes of the area and equipment that comes into contact with the guest, TV controls, training machines, handles, water dispensers.
Sanitizing Gel and Sanitizing Liquid Dispensers: Disposal of sanitizing gel as well as sanitizing liquid so that at the beginning or end of use of an appliance, the guest can apply it to the appliances for greater confidence.
Cleaning schedule: Scheduled cleaning and disinfection of the area intended as a gym every two hours from opening to closing.
Healthy Distance: There are signs of healthy distance not less than 1.5 meters.
Capacity: Constant control of the maximum capacity in order to respect the practice of healthy distance and adequate ventilation